Karisma at Karisma and Kids is taking us back...way back.
"I want you to take a trip down memory lane, and keep right on going, right back to your childhood. And I want to hear "THAT STORY". You remember the one? Yes, you do! The one your parents, siblings, extended family or friends, would never let you forget, live down or get over!"
Believe it or not, that old age thing is at work again, because I could not for the life of me remember any stories. I can clearly see me, Mom, my sister and whoever else sitting around talking about old times, but it's like the mute button is on. We are all laughing our asses off and yet I can't hear it. And here's a photo from that time...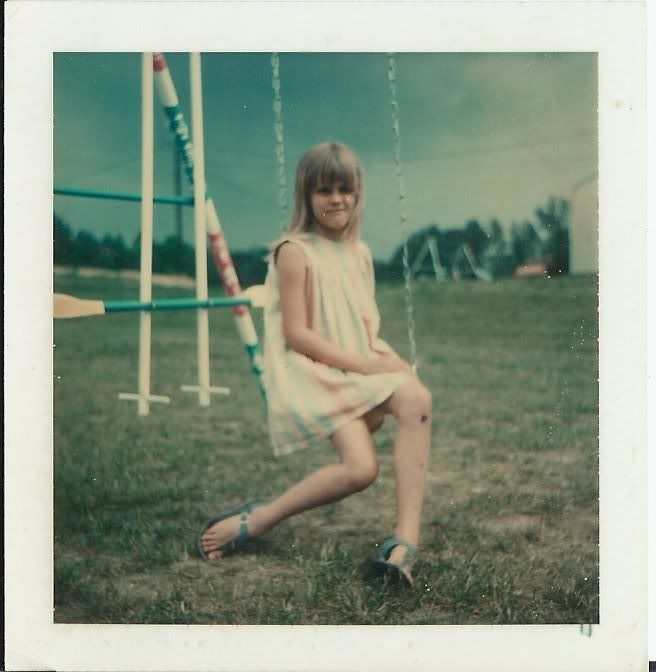 So I emailed my Mommy Saturday night and Sunday I had this nugget in my inbox, in her words...
"Do you want a good one or a bad one. Two that spring to mind are: when you were about 6 you saw something you just had to have in a comic book. You asked to get it but of course money being tight, I said no. So you got an envelope, the comic book page, wrote your name in big letters and a check from the checkbook.
sealed it all in the envelope(blank) and put it in the mailbox. The mail person knocked on the door, to tell me that they could not accept the envelope, since it did not have an address and no postage!!
The other time you were about 7ish and Do was walking so about 15-18 months and you went to the neighbors to play, when they asked if it was time for you to go home you told them that you couldn't just yet because we told you not to, because we were doing what Mom and Dad's do. Of course they had a good laugh and sent you home later, but I didn't hear about it for a while." (Ummm - awkward. She left off that they were just sitting around reading and never said that to me, of course. I made up the other part so I could play longer.)
Much thanks to my Mommy. Can't wait to hear what the rest of you little boogers were up to.
~R