BlueMomma at Life in the Fish Bowl is a voyeur, I should sell her some used panties, and she wants the following from us Fun Mondayers:
I want you to show me your......projects. More to the point, I want to see your unfinished projects. I have so many that I really need some reassurance that I'm not the only one. Home improvement projects are what I have in mind, but if you don't have any of those show me any kind of project - needlework, cooking, scrapbooking, etc. You can even show me your spouse if they qualify as a work in process.
Well since our home has been improved as much as we are willing - I don't have that to show you. OH wait, I'll show two things on my list to do, which would be an improvement when I am done.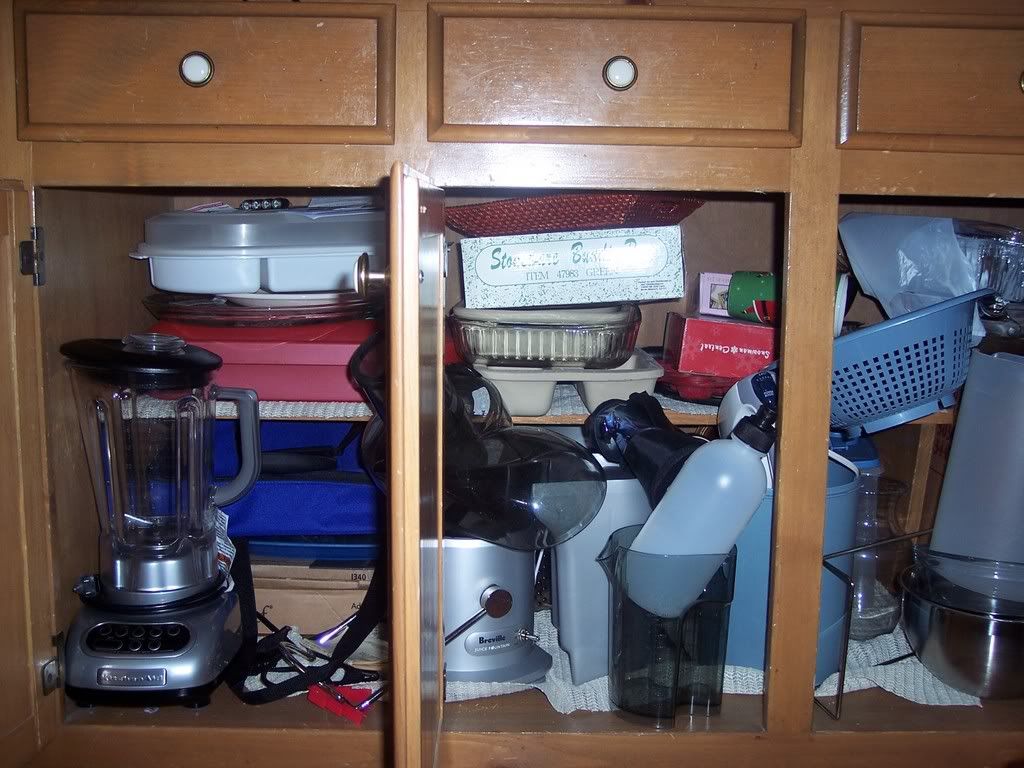 The first picture is of our pantry. It's actually quite large and is built behind the wall where the stove and counters are and under the staircase leading to the 2nd floor. I can't find anything in there and my boys do not help when they rifle through everything looking for junk.
The second is the bottom cabinets on the other side of the kitchen and I rarely use anything under there except the blender, and some mixing bowls. I don't want to get rid of anything because I use everything at least once a year. But I am starting to tire of how much stuff is under there and I also have to toss the colanders in and slam the door so nothing falls out.
So for all of you I know IRL that always tell how wonderfully clean my house is all the time - I have dirty little secrets. Now don't you feel better?
I'll be hosting next week so sign up and find out later what you'll be up to.
~R
***UPDATE*** This was written on Saturday afternoon. Saturday evening while digging for my wok in the cluttered cabinet, I found it with water in it. Apparently we had a leak from the sink. So, BN got to work fixing that and since many of the things in that cabinet had gotten wet with drain water, I was FORCED to go ahead and clean this space. Here it is after I finished. Still too much stuff, but neater. Yeah!