Well, it's that time of year again to start making little gifts. For family members, friends, postal workers, teachers, the gardner - doesn't matter. Everyone likes gifts, especially when they are made with your own wittle hands.
The first craft we'll visit is the snowman. I made these two Christmases (did I just make up a word?) ago and received a few requests from folks I purposely left off missed on my list.
You start with a stone from your local homestore.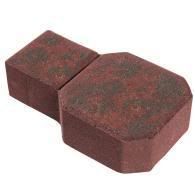 They come in a brick or concrete color. Doesn't matter which one you buy because the next step will be painting. You can buy a good outdoor paint or do what I did and stir up that old can of Kilz in your shed. Two coats should work - stones are porous and will show through the first coat.
Next you can glue buttons on for his eyes, nose, mouth and buttons - just don't use hot glue. I did this and after a few freeze-thaws, those little boogers popped right off. Instead, pull out that tiny paintbrush and be artistic.
My BFF's daughter hand-crocheted the scarves for me. You can also use fabric scraps. Plaids are nice.
I used RePete's old size 12 month socks. I sewed decorative buttons and flowers on the fronts and then glued those babies down on the heads. The freezing-thawing thing didn't seem to bother the hats.
I used a silver cording to tie on a gift tag. It read something like this:
"From our family to yours."
"BN bought the bricks."
"Robinella painted."
"Pete helped with the glue."
"And RePete donated his socks."
These were a big hit and I hope you too can make someone smile with a homemade gift this year.
~R
If I can get up into the Christmas stuff before next Friday, I'll post another "gift". Gift is the operative word for our next crafty session. Attics really creep me out, so if I can't bribe BN to go up this weekend, then it'll be the Friday after Thanksgiving post.